Update x4: Girl reveals text messages. Bought her plane ticket and claimed he was 18.
Update x3: Second girl comes forward about DreamKazper
Update x2: Boston Uprising Release DreamKazper.
Update: Second girl now coming forward. Being vetted by journalist.
Jonathan "DreamKazper" Sanchez of the Boston Uprising has been accused of sexual interaction with a 14-year-old girl. These involve chats using Twitter DM's, Facetime video calls, and Snapchat.
You can view the full transcript of the accusations down below:
 *All allegations are backed by screenshots that have been provided through a link at the end of my statement. Please read all of them keeping in mind that this is a conversation between a 14 year old and a 21-year-old.*

        I want to address something that I've kept in the dark for too long. I am Lily, I am 14 years old and in 9th grade. I was taken advantage of by a 21-year-old player for the Overwatch League. He abused his power as a player to coerce me into sending him nude pictures and engaging in explicit facetime activities.

I have an account on Twitter with the purpose of posting Overwatch League content to support my favorite teams. One day out of the blue, I was followed by one of the players for Boston Uprising, DreamKazper. It caught me off guard but I was flattered, so I dmed him thanking him for the follow. He continued to strike up conversations, which made me feel special that an Overwatch League player actually wanted to talk to me.

During one of the first conversations, he offered to buy me a PC copy of Overwatch. I thought it was strange he was offering to spend money on me, but I was still in shock it was all happening. I accepted and we played together, sometimes with some teammates of his.

Early into the friendship, I had told Kaz I was only 14. I had figured it would have drove him away, but he continued to have interest in talking to me which I didn't mind. Over the first few days we talked, he progressively got more and more flirty. Complimenting my appearance, and making sexual innuendos that I shrugged off at the time.

As time progressed, it became apparent that we were more than friends. Things started getting sexual very quickly. I had recently gotten out of a relationship and was incredibly vulnerable. The attention he was giving me had blinded me from seeing that what was happening was wrong.

He followed a few of my mutuals at the time and we have a group chat that we added him to. He brought the same sexual comments over into the group chat, knowing most of us were underage. He would continually joke about having my friends nudes, watching porn, and even told the story of him losing his virginity. The group chat has thousands of messages so I could not scroll back up enough to find his texts on it.

Very quickly things escalated between us and I was given his phone number and Snapchat. On Snapchat things disappear quickly, so we would engage in sexual conversations that lead to me sending him a total of two explicit images. He would send me shirtless pictures or him in his boxers on Snapchat, but on Facetime everything was exposed. I obviously cannot show that proof, but the things he has said in screenshots seems to backup my claim. I have proof that we facetimed, the screenshot has a few numbers unblurred to confirm his phone number is actually him.

At the time, it felt nice to have an Overwatch League player be so heavily interested in me. It brought me a lot of confidence, and at the time I was so wrapped up in it, I didn't realize how wrong the situation was.

I developed feelings for Kaz, which I could tell were unhealthy by as intense as they were getting. He had called me his "dream girl" and really toyed with my feelings. I came to the realization that as a relationship we couldn't work. Our ages were too far apart and it was starting to feel wrong. At this point I completely cut him out of my life. I later discovered he had been talking to other girls as well, not to mention having a girlfriend at the time.

After talking with close friends on the subject over the course of a month, I realized what a power dynamic it was. I'm stepping forward to hope this doesn't happen to anyone in the future. DreamKazper should have known better to engage in explicit activity with someone seven years younger than him, especially when he represents a team. He used his social status to blind and take advantage of me.

EDIT: screenshots have been included at the end of the link showing DreamKazper saying he knew my age.
Since these accusations surfaced, the Boston Uprising and the Overwatch League issued the following statement..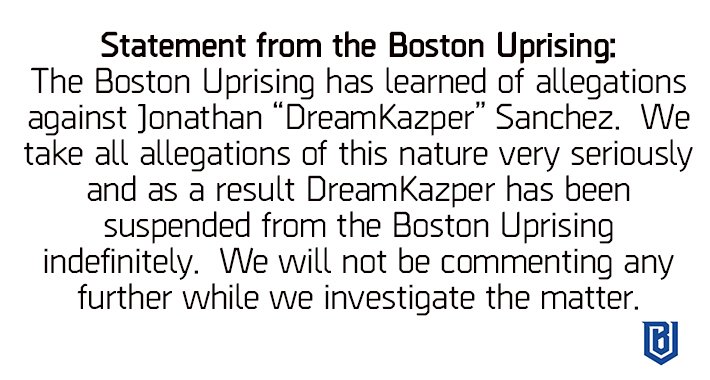 It's also worth noting that according to Rod Breslau, there are more message through both social media and texts then what has surfaced. The accuser has uploaded 44 images and notes she has nude photos that DreamKazper sent to her, but will not upload them for obvious reasons.